How to Use Mushrooms to Get Rid of Atrazine (and Spare Male frogs from "Castration")
I thought I would post about morels next but good things come to those who wait.
In the meantime we have a bad thing with (at least one) good solution.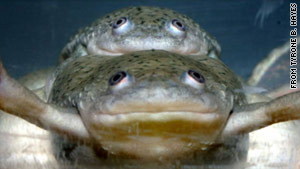 Ever heard of Atrazine? It's in the news right now for altering the reproductive systems of frogs: CNN, Reuters, Fox, BBC
It's now infamous and controversial. Atrazine has a reputation for groundwater pollution, human health problems, and wildlife damage. It's also one of the most common herbicides used in the United States. If you've ever come in contact with golf courses, Christmas trees, food containing corn, or drinking water, you could have been exposed to it.
It also stays around for a while (from Extoxnet):
"Atrazine is highly persistent in soil. Chemical hydrolysis, followed by degradation by soil microorganisms, accounts for most of the breakdown of atrazine. Hydrolysis is rapid in acidic or basic environments, but is slower at neutral pHs. Addition of organic material increases the rate of hydrolysis. Atrazine can persist for longer than 1 year under dry or cold conditions [21]. Atrazine is moderately to highly mobile in soils with low clay or organic matter content. Because it does not adsorb strongly to soil particles and has a lengthy half-life (60 to >100 days), it has a high potential for groundwater contamination despite its moderate solubility in water [20]. Atrazine is the second most common pesticide found in private wells and in community wells [16]."
Personally, I think the best solution to this problem is organic gardening and farming practices. Barring that, what if there was a mushroom that would eat it?
When I was visiting Tradd and Olga at Mushroom Mountain last week (and I wrote about How to Kill Fire Ants, Carpenter Ants, and Termites with Mushrooms) I also took photos of an experimental oyster culture acclimated to consume various concentrations of Atrazine.
Tradd and Olga found this mushroom (when Olga tripped over the Clemson, SC stump it was growing on) during freezing temperatures this past January. Since oysters usually prefer slightly warmer temps, Tradd collected the hardier specimen for cold weather bioremediation purposes.
He now has it growing on petri dishes containing the labeled usage rate for Atrazine as well as concentrations 2x and 3x the recommended application rate. This mushroom has adapted quickly to its new toxic food source. Pending tests to determine the mushroom's efficiency at degrading Atrazine's active compounds, it will be a remarkable tool for removing Atrazine buildup in the soil.
Tradd tells me this fungus is available for experimentation now if you'd like to contact him through the Mushroom Mountain website.