How to Tell if this Golden Polish is a Hen or Rooster?
Instead of being informative with this "How to," I'm really asking.
Is this golden Polish chicken a hen or a rooster (or right now, pullet or cockerel)? How long until I can tell for sure? I was hoping someone had experience with this breed in particular since it seems a lot different than our other chickens.
*Edit* Here's some more photos to help with identification:
We've been trying to guess from the beginning what our freebie chick would turn out to be. It's easier to find homes for hens than roosters, but my daughter is hoping that someone will want it (for uses other than fighting or the kitchen soup pot).
I took a video, too: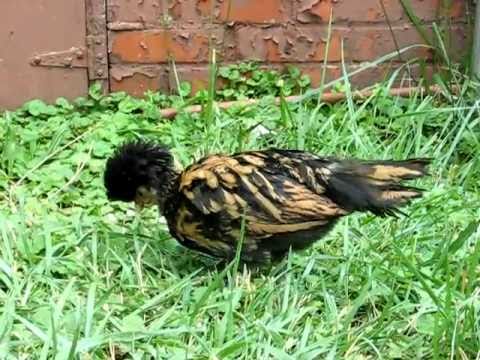 Out of the online images of golden Polish chickens I thought these photos at CD Farms, LLC were striking. I had been thinking our little chick's longer tail feathers than our marans and leghorns meant that it must be a rooster, and now I don't feel sure at all.
Right now, our chick looks more like the hen pictured below than the rooster pictured above.
I need to find a new home for this chick whether it turns out to be a hen or not, because we've already chosen our 6 chicks and the coop we built won't accommodate more than that.
What do you think, do we have a male or female? I've also asked on the breed & gender forum at Backyard Chickens.
*Edit* This chicken turned out to be a rooster and has found a permanent residence at Pecandale Farmstead.