How to Help Bats Succumbing to White Nose Syndrome
GoBlueRidge.net and the North Carolina Wildlife Resources Commission are reporting that bat White Nose Syndrome (WNS) was recently found in an old Avery County, NC mine as well as a cave in nearby Grandfather Mountain State Park.This marks the first sightings of the disease in NC and brings it even closer to my region of South Carolina. The bat population of upper SC was looking healthy but that could change before this year's spring bulbs emerge.
Deadly WNS spreads so rapidly (as much as 450 miles in one winter) that bats may be a distant memory for the entire Appalachias and east coast in as little as 20 years. First discovered in 2006, it is already documented in 16 U.S. states and 2 Canadian provinces.
I generally like fungus but the newly discovered and appropriately named Geomyces destructans is not on my list of favorite species. Scientists are scrambling to collect data on Geomyces destructans ever since it showed up as White Nose Syndrome in 2006. They believe that its native hosts may be European bats who have developed a resistance to it. This mirrors the invasive chestnut blight that wipes out American trees but does not destroy the Asian species it evolved with.
The definitive verdict of how WNS kills bats is out, but scientists think that the fungus interrupts the hibernating torpor of bats and causes them to use up fat stores too quickly. It also seems to lower their immune system, damage their wings, and cause detrimental behavior such as freezing winter flights.
Like rabies, scientists think WNS may be carried from bat to bat and cave to cave. It could also be transmitted on the bodies, clothing, and equipment of spelunkers which is why caves in some areas are closed to human activity.
This is a tough blow to a highly educational and rewarding hobby. The GoBlueRidge.net article quotes Sue Cameron of the US Fish & Wildlife Service as saying, "Cavers are passionate about what they do and we truly understand that asking them to stay out of caves is no small request and we greatly appreciate their sacrifice."
This regional map shows reported and confirmed cases of WNS in chronological order. The purple splotches show areas where sightings have happened in the winter of 2011. The North Carolina cases occurred around 100 miles from the South Carolina border.
In some places on the map the death toll is almost 100% of the population. Since bats are long-lived mammals that only bear one pup per year, it is unlikely their numbers will ever recover from the blow.
I've taken advantage of the fact that I'm rabies vaccinated to participate in bat studies and conservation efforts. Sometimes that involved volunteering with wildlife rehabilitation groups but one of the most rewarding experiences was assisting a Furman University professor to collect bat data in our region.
Two things of note:
Even if you are rabies vaccinated you still need a booster if you get exposed again (the shots aren't as bad as they used to be… but that's a low bar. However, no matter how much you hate needles it's still better than death by encephalitis).
A huge chunk of "bat study time" involves waiting on the bats to show up. It's sort of like fishing. Because of this, I am now a talented Pass the Pigs player — the standard of nighttime forest entertainment for the group of scientists I accompanied.
To capture bats we erected large, finely woven nets in likely bat thoroughfares, usually near open water where flying insects collect. A machine that picks up bat sonar and reports it in tones audible to the human ear made it possible for us to tell when they were in the vicinity. Hearing one didn't mean it was headed for the trap so we often scanned the net with a flashlight to see if a grumpy bat was dangling there like a spider's meal.
Once captured, the net was lowered with a pulley so the bat could be gently disengaged from the threads. A methodical routine was followed where we identified the species and sex of bat, took measurements, checked its condition (especially for WNS), took a hair sample, and wing tagged it prior to release. All of these activities required a permit, especially in the state parks. Our major goal at the time was recording present species for the state park's bioblitz. Then a tightly localized field guide could be made available to park staff and the public. Unfortunately, that information may soon be in the past tense.
We captured big brown bats (Eptesicus fuscus), little brown bats (Myotis lucifugus), tri-color bats (Perimyotis subflavus), eastern red bats (Lasiurus borealis), Mexican free-tailed bats (Tadarida brasiliensis) and northern long-eared bats (Myotis septentrionalis). At least 4 of these species are susceptible to WNS.
The females we caught during this period were all healthy and lactating, which meant they had babies waiting nearby. It saddens me to think that our area may have no bat mothers tending to pups this summer. Scientists are predicting that even the most common bat in North America (the little brown) could be extinct in 16 – 20 years.
Scientists agree that WNS has caused the most precipitous decline of North American wildlife in recorded history. Over a million individual bats have succumbed since 2006 and this may be a conservative number since it isn't possible to track all the deaths.
We don't know yet how this will affect our ecosystem, especially regarding insect pest populations.
Given the number of mosquito bites I sustained during my summer bat watches, I know they aren't a guaranteed solution to insect pests. But what would the world be like without them?
Dr. Robert Corrigan of the Texas Mosquito Control Association says,
"Do bats contribute with all the other insectivorous animals in providing some type of check and balance of some insect populations (both good and bad bugs)? Yes. And this role is critically important in the overall scheme of our ecosystems. Therefore, bats are biologically useful mammals, and are a very important and unique part of our wildlife. People should protect and even encourage bat populations outside and away from of our buildings. I would even promote pest control associations nationwide to join and support bat conservation groups such as Bat Conservation International (BCI) to show as an industry we do as we say in our logos: that we protect and guard our environment and provide stewardship of important wildlife."
Bat Conservation International says,
"Insectivorous bats are primary predators of night-flying insects, and many very damaging pests are on their menu. Pregnant or nursing mothers of some species will consume their body weight in insects each night. A single little brown bat can eat more than 1,000 mosquito-sized insects in just one hour."
Their FAQ also says,
"The number of insects consumed annually by one million bats, the estimated number of WNS fatalities to date, is staggering: just under 700 tons. These bats have extraordinary value in maintaining the health of nearly all terrestrial and aquatic ecosystems. And since many of the insects eaten by bats are crop pests, losing large numbers of bats will likely have expensive impacts on agriculture."
The speed that bats are declining is particularly alarming — it doesn't give other predators time to fill in the gap. Because of it, we may see pest population spikes similar to the locust and jackrabbit plagues during the dust bowl.
What about other areas of the continent? We don't know, yet. When I went to Carlsbad Caverns this summer I was privileged to watch a countless stream of the million Mexican free-tailed bats exiting the cave for their nightly feed. Here's a video of the spectacle (taken by someone else):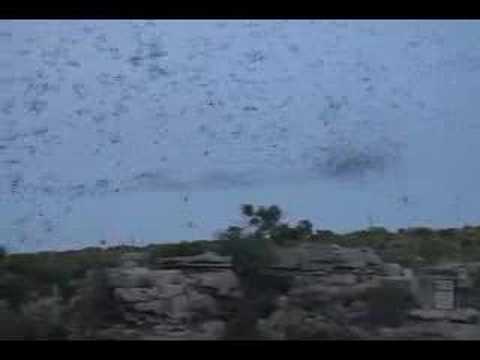 These bats were interested in filling their bellies with insects, not in the breathless observers underneath them in the cave entrance amphitheater. Still, I can't think of a more effective ambassador for protecting our wildlife and outdoor spaces than such an awesome spectacle made available to the public.
On a smaller scale I've been able to observe bats in Kentucky's Mammoth Cave, in manmade Stumphouse Tunnel of Walhalla, South Carolina, in the highly commercialized and damaged Ruby Falls of Chattanooga, Tennessee, and in the vicinity of the most recent WNS outbreak — Linville Caverns of North Carolina. Bats clinging to cave walls are fascinating, but I also love seeing them swoop over my garden in the summer twilight or diving around street lamps just about anywhere in Appalachia.
When I head up to Asheville I never pass the US Highway 25 signs for Bat Cave, NC without thinking about the town's role as a protected ecosystem. Soon the name of "Bat Cave" may be descriptive of its history rather than its present.
But even with data leaning to dire predictions, scientists haven't given up. You don't have to, either. Bat Conservation International says you can do the following things to help:
Educate your friends and families about the benefits of bats and the threat of White-nose Syndrome.
Encourage your state and federal legislators to allocate funding for efforts to understand and fight this devastating disease.
Report unusual late-winter bat behavior (such as bats flying during the daytime) or unexplained bat deaths to your state wildlife agency.
Adhere to state, federal and local cave advisories and closures to help prevent the transmission of WNS.
When you enter caves, carefully follow decontamination protocols outlined by the U.S. Fish and Wildlife Service.
Donate to BCI's WNS Rapid Response Fund.
You can also donate to the WNS Emergency Fund at Bat Conservation International.