How to Get Fuzzy Bees Drunk
We have Passiflora incarnata (maypop passionvine) growing outside our back door. I've written in the past about how to grow this native plant for its delicious fruit, but today I wanted to share a video of our "bee bar." I'd say they show up at first light, but really, they never leave. These sluggish insects gorge on nectar, becoming increasingly clumsy, until the blooms close over them at night. When dawn breaks they repeat the process.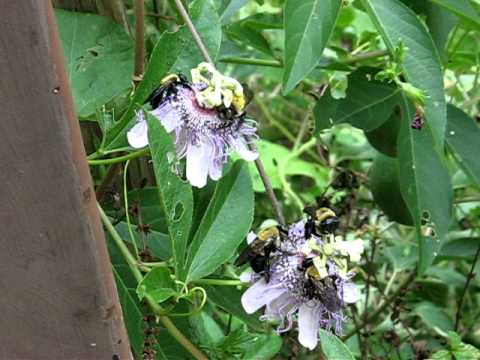 This excerpt from an 1853 book entitled Wonders of the Insect World: With Illustrative Engravings by Francis Channing Woodworth has a delightful description of the phenomenon:
"I regret exceedingly to be obliged to announce the fact, that bumble bees are sometimes given to tippling. It seems that the nectar in the passion flower has an intoxicating effect upon these creatures, and that they now and then indulge in excessive drinking, when this beverage is within their reach. Instead of being content with a moderate draught, like orderly and temperate bees, they yield to temptation, and drink until they are quite drunk. They become so stupid, indeed, from their intemperate drinking, that they scarcely can fly home to their nest; and it sometimes happens, that one may see half a dozen of these poor creatures lying on the ground, near the goblet which has so grossly intoxicated them, and entirely unable to stir an inch. The dunces! They are almost as silly as the human drunkards that we too frequently meet with."
Tippling is perilous indeed! We never find puddles of drunk bees on the ground under our plants… but perhaps our chickens find them first.